There was a time when e-businesses, B2B's, and e-marketing had to depend on physical images (tarpaulins, billboards, etc.) and repetitive posts to attract possible customers. Then came the recorded videos and tv commercials, which helped brands grow more. Nevertheless, technology has been evolving since. Video content has been a huge part of the growth in many platforms on the internet today. It has been proven that digital marketing has also stepped up in today's marketing tools. Therefore, almost every e-commerce incorporates live streaming marketing.
Live Streaming Marketing in the Modern Era
The usage of live streaming has been flying to the roof since it became a stepping stone for marketing. It allows brands/businesses to have exposure and engagement from possible customers through the stream. Furthermore, this type of marketing has been proven effective through successful brand launching, endorsements, and more sales.
Although live streaming marketing was splendid to use, it also comes with reasons for and against. This article will be transparent and show you what the two sides of the coin look like.
First of all, what is live streaming marketing?
At this moment, it is a tool that uses the virtual experience for online shopping customers. This tool is often used by influencers, gamers, and huge brands to create video content engaging with their target audience. It is also widely used in gaming, and a huge number of live streaming pages has increased over the past few years. Sites like Twitch, Facebook, and Youtube have been more engaged with retail organizations. So here are a few of the reasons to go for:
Live streaming engages many customers at once.
It is efficient and budget-friendly.
Live streams are flexible.
These three reasons can be met when using live streaming marketing. Let's discuss this furthermore!
Live streaming engages many customers at once.
Any digital marketing strategy has the norm of engaging or reaching many customers at once. Live video content has become superior in this aspect because it allows a more interesting connection between the audience and the host. Thus, it can intensify the relationship between customers and brands.
It is efficient and budget-friendly
As mentioned in the intro, advertising in the old days can be costly. Even small businesses need a huge budget just to endorse their product. Live streaming has changed this complication excessively. Nowadays, business owners can expose their products through live video content with their free social media accounts. It also means that e-businesses don't need expensive sets, cameras, and video editors. Now, they can use streaming wherever they are!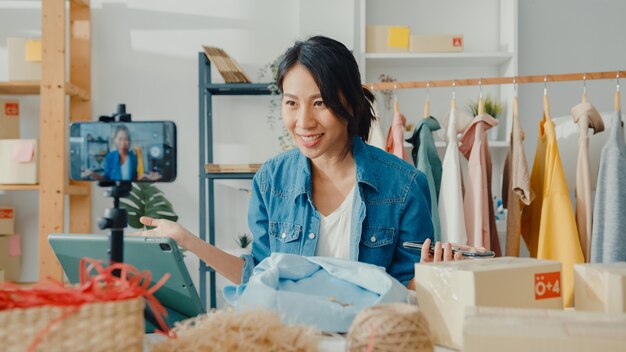 Live streams are flexible
As previously mentioned, the live stream can be wherever of use. That's why audiences don't expect television quality. Instead, they know that direct people engage with them regardless of the video. It also portrays the advantage of promoting products as owners can demo or direct tutorial it to the audience. On the contrary, television ads/traditional ads don't have that advantage as they only focus on showing and selling the product faster.
Now that you're knowledgeable about the benefits, it's only fair that you must also understand the cost of using Live Streaming Marketing.
Here are a few reasons to go against it:
Live streaming can neglect customers
High competition
Time/Effort dependent
These are the three reasons to go against live streaming marketing. Let's review some of these setbacks!
Live streaming can neglect customers.
When we say neglect, it doesn't mean that all of the audience. It means that some individual customers may not get the assistance they need when using live streaming. There are two factors to be considered:
What if there are single customers that actually have feedback for your business?
What if there are single customers who want to avail of your product instead of other audiences.
When we see these factors, it would be hard to assist them since you are engaged with several customers at once, thus, losing some. So the question is, how will you serve them with your best?
High competition
The amount of live streaming content these days is massive. Were not just talking about big brands here; this also includes the small ones. Therefore, you will need an interesting way to attract the targeted audience. You will also need a lot of creative ideas for them to be amused and look into your live video content.
Time/Effort dependent
As mentioned earlier, you can use this tool wherever you are. But it doesn't change the fact that you will need a lot of time to create live video content. We're not just talking about creating live video content, but being consistent in it is also a challenge, especially if you're having a hard time attracting audiences. It would be best if you also had new ideas and themes; just because you can use it wherever it doesn't mean that you can be repetitive! Consider having new resources, and expect a long-term consistency if you use this kind of marketing.
Live streaming Marketing: Takeaway
As explained above, live streaming marketing is used in digital marketing strategy. It can help you engage with a wide variety of customers but might take a lot of time and effort for it to be successful. You must also be mindful of the risks that come during and after. But, having these risks doesn't negate that it has become popular ever since and is a well-known method. Consider having many factors as well when engaging customers because meeting them online isn't going to suffice their needs. Try having a physical approach and casually engage the audience through their feedback. In fact, responding to customers thru private messages and the chat box will make them feel prioritized and most likely be your customer again.